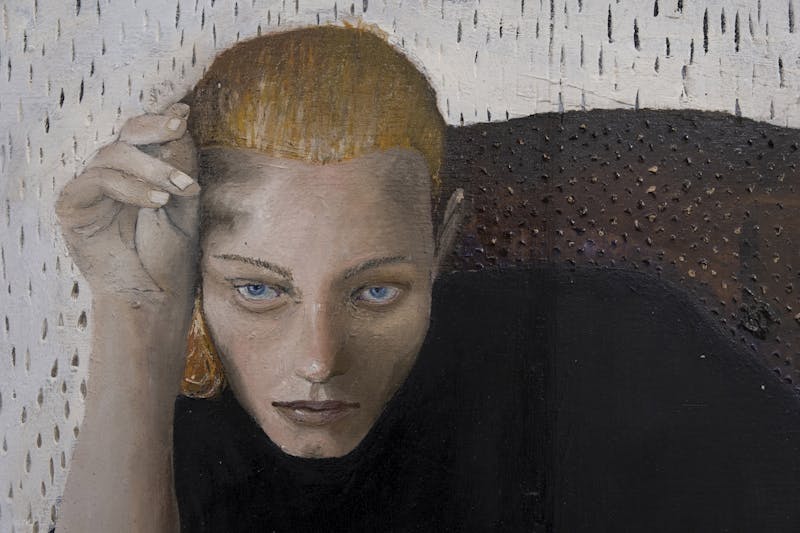 Party in the Blitz
In Conversation with Andriano Amaral, Robert Brambora, Xavier Robles de Medina, Sophie Friedman-Pappas, Gabby Sahhar, Will Thompson and Waldemar Zimbelmann
16 March 2023
On the occasion of our recent group exhibition Party in the Blitz (27 January - 17 March 2023) at MAMOTH, we are delighted to share an interview with the artists, who go in-depth into the inspiration, creation process, and materiality of their works and practices. Many thanks to Will Thompson, Waldemar Zimbelmann, Robert Brambora, Gabby Sahhar, Xavier Robles de Medina, Andriano Amaral and Sophie Friedman-Pappas for contributing to this interview.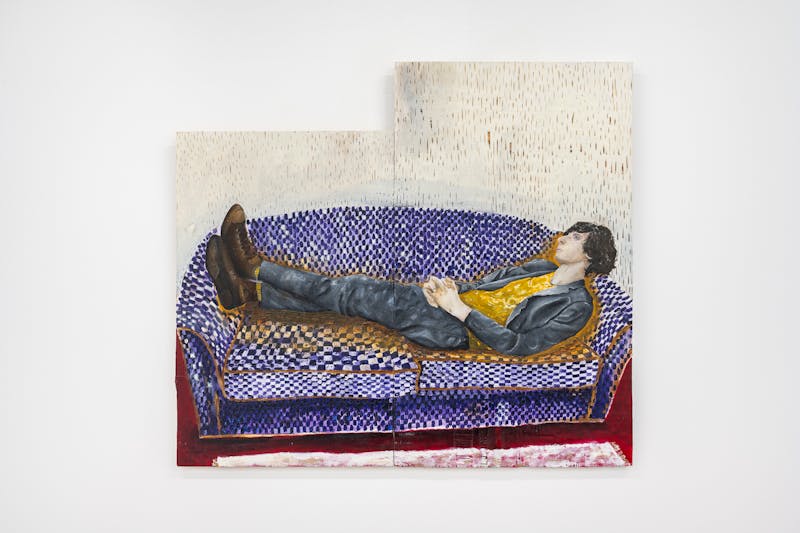 MAMOTH: Regarding the material and psychological aspects of your work, could you talk about the direction of your attention and the story behind the images?
Will Thompson: Carlo Rovelli spoke about the problem of seeing things in his book Helgoland. 'It indicates on the one hand that the reality of things is comprehended above all by the eye, by an act of visual perception. At the same time, if we are said to be "seeing things" it means that we are suffering from hallucination, that form of phantasm that is taken to be reality.'
Each of the paintings in this series are taken from adverts or advertising images designed to promote a specific lifestyle or brand. I've stripped back the images, removing everything bar a person and the seat. This further builds into the narrative of art history, the portrait – from medieval to contemporary - synonymous with a seated position. I wanted to explore the classic seated position of a figure and the composition of image in relation to Rovelli's idea of seeing things.
M: Particular details that deepen the prominent sense of anxiety in this work are the stippled and shifting patterns on the subjects clothes, as well as on the fabrics of the furniture and the wall behind the sitter. Could you expand on these detailed designs and concrete expressions?
W:  The anxiety of the image has been manufactured purposely, reducing everything in the image apart from the figure to colour and texture. The walls behind the character are dirty or shadowed, the seat is reduced to texture and the clothes are grey. Whilst creating these pieces I wanted to explore the depiction of identity in media and its layering and alignment with societal norms. I wanted to strip everything back to the basics as a step away from the narrative of a curated community that we see habitually on TV or in magazines, in an attempt to break with reality.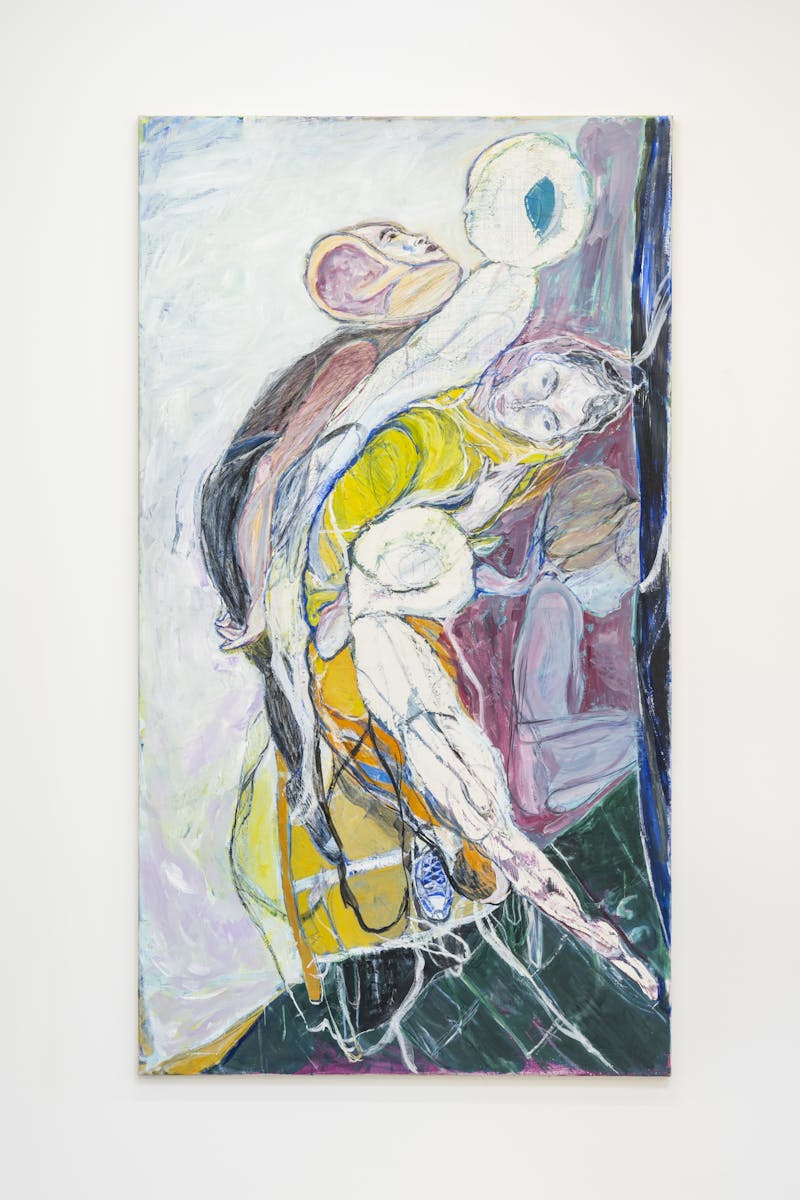 M: In your paintings, translucent oil paints and carbon pencils are layered on top of each other and through wanton and intelligent use of brushstrokes the hazy and subtle characters in your paintings emerge. Regarding the combination of materials, how do you control the sense of flow and power in the final appearance of your work?
Waldemar Zimbelmann: The work usually begins with superimpositions of various figures applied in a loosely drawn style. As soon as individual figures begin to relate to each other, individual faces are worked out into concrete portraits, but not infrequently discarded again when another figure comes into focus in the painterly process and this demands that the previously intensively worked out figure must again step more into the background. Then the work is smudged, scratched, and sometimes entire layers of paint are radically scraped out. The interplay of different painting techniques is always subordinate to the idea of the picture itself: they support the forms of the image's dynamics and guide the viewer's gaze. This painting technique allows the process of creation to be guessed at and draws attention to the subtle tension between the protagonists and their physical symbiosis.
M: In the work "The red colour, the yellow, the dark green, the sky ELLENO" (2022), the title is named after various colours. The characters are portrayed concretely and abstractly, and the fourth figure is hidden in the background. What are the themes behind these portraits that attract you, and what narratives of imagery have you been focusing on? 
W: The title is taken from a poem by Ernst Herbeck, whose poetry has accompanied and inspired me for several years. The poem names the colours red, yellow and dark green quite concretely, but what stands above all at the end is the abstract word creation ELLENO. It stands for a feeling, a mood, which is able to express far more than the concrete enumeration of the individual colours. Also in my pictures there are again and again very concrete places and clear portraits, however the total picture expresses beyond this; a mood, a feeling, which is composed of everything. The individual figures are, during the working process, in a constant occupation of play and mesh, which alternately pushes them into the painterly focus. Thus even shadowy figures or ghostly apparitions within the background become equal protagonists in the picture, which together with the concrete portraits create something new, an "ELLENO".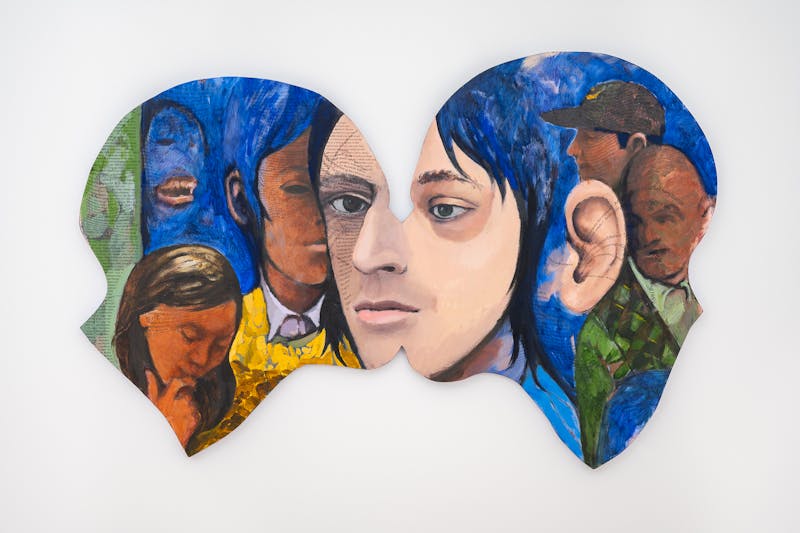 M: During the process of observing and describing your work we have learned that these tiny, floating letters are like the labelled summaries of aspects of a person. In the image, for the 'data' of these fictional or real characters, from which of these aspects did you select in order to outline them?
Robert Brambora: I use a variety of text sources and have been exploring the combination of text and painting for several years now. For this new series, I focused on large collections of data on various topics. In the kiss silhouette works, my idea was to explore the categorization process used by many companies to divide people into different groups based on certain characteristics.
To achieve this, I collaged various parts of data collections around and above the individuals in the painting, including data on mortgages and loan statuses, food preferences, general eating habits, and self-descriptions from dating websites. I also used collections created to train AI to detect human emotions and other related topics.
Through this process, I aim to explore the broader social and cultural implications of data collection, categorization, and the use of data to define individuals and groups.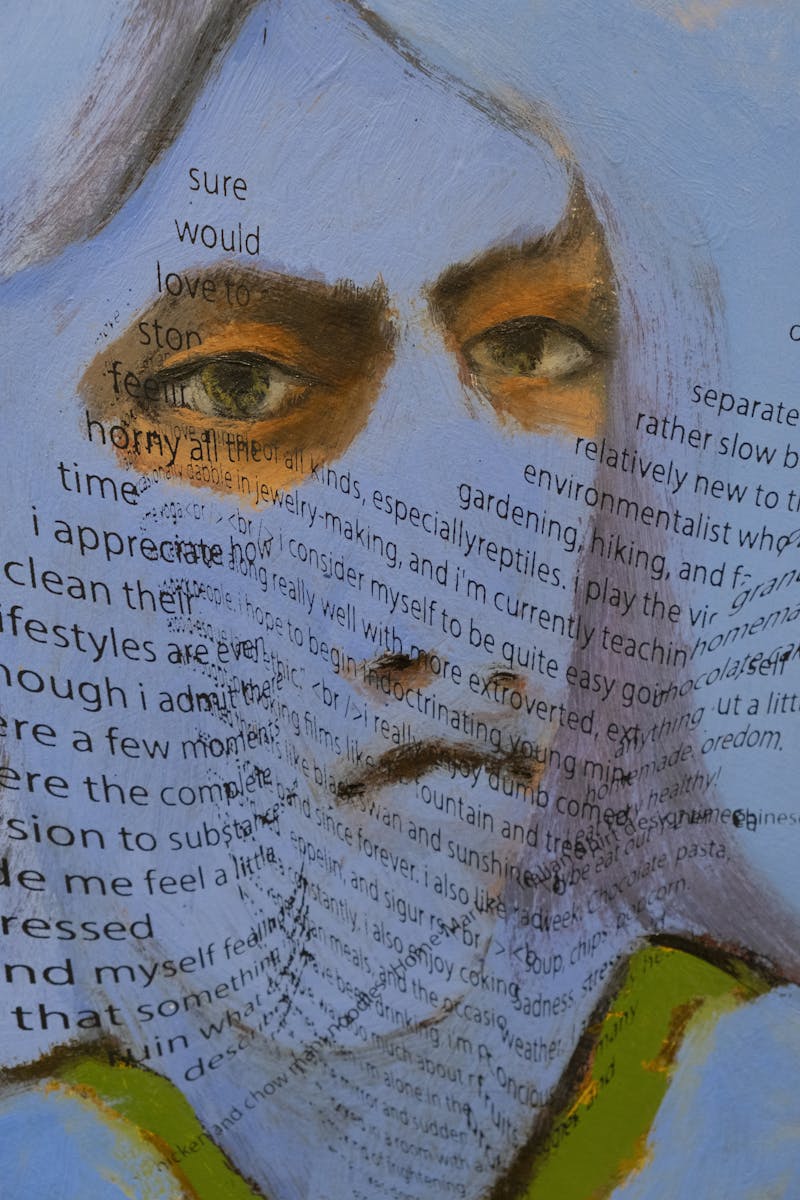 M: These 'labels' seem to be everywhere in today's society. Do you intend to reflect the myriad forms of connection between people (both statistically and psychologically) through the complex imagery of your paintings?
R: For me, the different layers of my work—the silhouette form, the painting within it, and the text collages—represent different levels of perception, addressing different sensory and cognitive areas. This allows me to explore a theme in multiple ways simultaneously, juxtaposing different worlds of association.
The silhouettes were inspired by MRI images of my own head, resulting in a relatively abstract "insight." In contrast, painting is a direct and immediately effective mode of representation, allowing the viewer to visually enter a fictional, imagined world. The data and texts, however, present an immaterial world behind the tangible, consisting of facts, characteristics and categories that hover over everyone or stick to individuals through data collection.
Together, all three channels offer different images of reality.
I like to think that by combining all these different data sets from various sources, I'm creating a sort of poetic, absurdist commentary. It's like taking a bunch of random, seemingly unrelated pieces of information and seeing what kind of wacky, unexpected connections and patterns emerge.
Who knew that someone's favourite type of sushi could be so intimately connected to their credit score or their political affiliation? It's like a bizarre, surrealistic poem that writes itself.
On the other hand, there's the inescapable economic reality that underlies all of this.
I guess you could say that this text collage is a bit of a tightrope act between this absurd poetry and the harsh reality of economic determinism.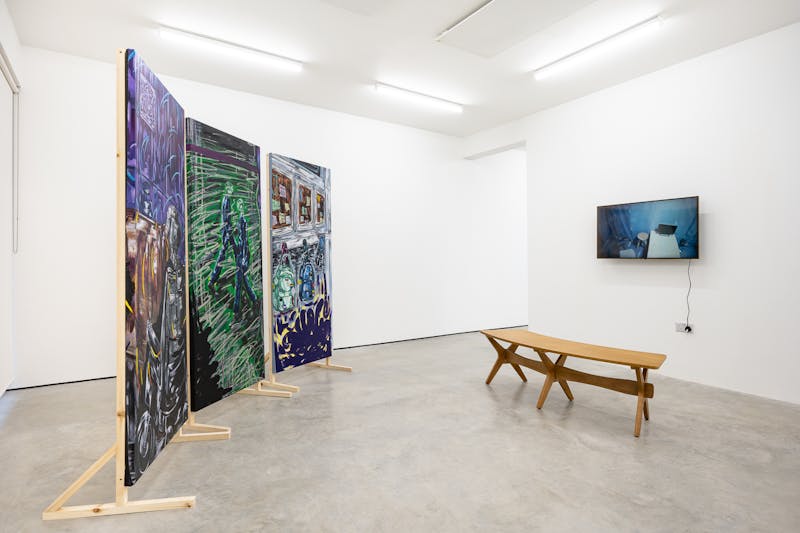 M: In this exhibition both your paintings and film work will be viewed in the same space. How did you conceive the juxtaposition of these two differing mediums, in terms of their contrasting visual languages and their methods of display?
Gaby Sahhar: For me, film and painting has always had a strong link, in both my painting and film work I'm often trying to create an environment through imagery. I rely on imagery a lot when I'm painting, producing or creating a composition, it becomes a foundational process in the research. In my film that imagery just becomes animated and has a narrative attached. I see film as a space to be more experimental with ideas because the medium is so fast paced in comparison to the process of painting. Music and display methods can all aid in adding another dimension in how the work is perceived by the audience and that excites me. For me the dominant link between the painting triptych, 'Intrusive Sound' and the film next to it. 'Fragile Existence' is the power of sound. The paintings have lasers, colours and club lights imbedded into the composition, reflecting the intensity of layered sound created by Craie Stacks in the film. There are also direct references in the painting to imagery taken from film stills and other references. 
M: Could you briefly talk about how your current focus or recent events have inspired you? How do your inspirations affect the selection of your modes of expression?
G: Recently I've been interested in 'bridging' a lot of ideas in my art practice. I'm interested in bringing together my research on gender, sexuality and wider queer struggles within a European and London context, with my research from Palestine and the West Bank. I'm interested in creating experimental compositions and films that have no geographical borders between these two parts of the world. I think I'm always thinking about my heritage, language and migration in regards to my relationship to Palestine, a country that I can't easily access and one that is constantly disappearing due to walls, settlements and war. I'm interested in understanding the physiological implications of being exposed to this imagery in the news being positioned in Western Europe; through family members and wider forms of research such as books and online as well. So I feel like at the moment I am heading into that direction where I'm not sure what the outcome will be, but that motivates me and makes me keep going.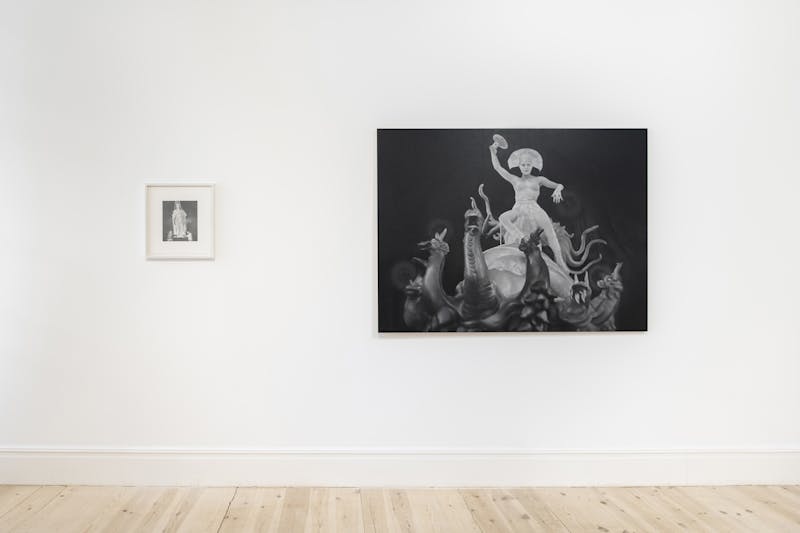 M: What influence do you take from your homeland Suriname, other locations you visit or your current environment? How do they influence your method of image making, your 're-creation'?
Xavier Robles de Medina: My history and identity as a Surinamese person are inherently woven into everything I do. That's really how my world view is shaped. For me the idea of Creolization, of different cultures blended together to make a new culture, that is my main point of reference. I don't know any other perspective than a multicultural perspective, which is why I'm deeply skeptical of the idea of "originality." Take the image from Metropolis for instance. This particular image of Maria atop this multi-headed-monster sculpture, I connected most to that idea of Creolization in visual culture. The image is directly referencing the Beast in the Book of Revelation, but also has many of the structural elements of Hindu and Buddhist sculpture. Maria is wearing this sort of Aztec headpiece, whilst dressed in a Belly Dance costume, and of course it's a German Expressionist film. I find that mixture really captivating. As for the drawing of my grandfather removing the colonial statue of Queen Wilhelmina of the Netherlands, right before the independence from the Netherlands, you'd think it's obvious how that relates to Surinamese history/identity. Recently however there have been some very serious and troubling anti-democratic gestures made in Suriname. I'm surprised actually how much the image continues to grow in urgency and complexity for me as a Surinamese person, and someone from the global south in general. I really think it's about something that perhaps is not quite knowable.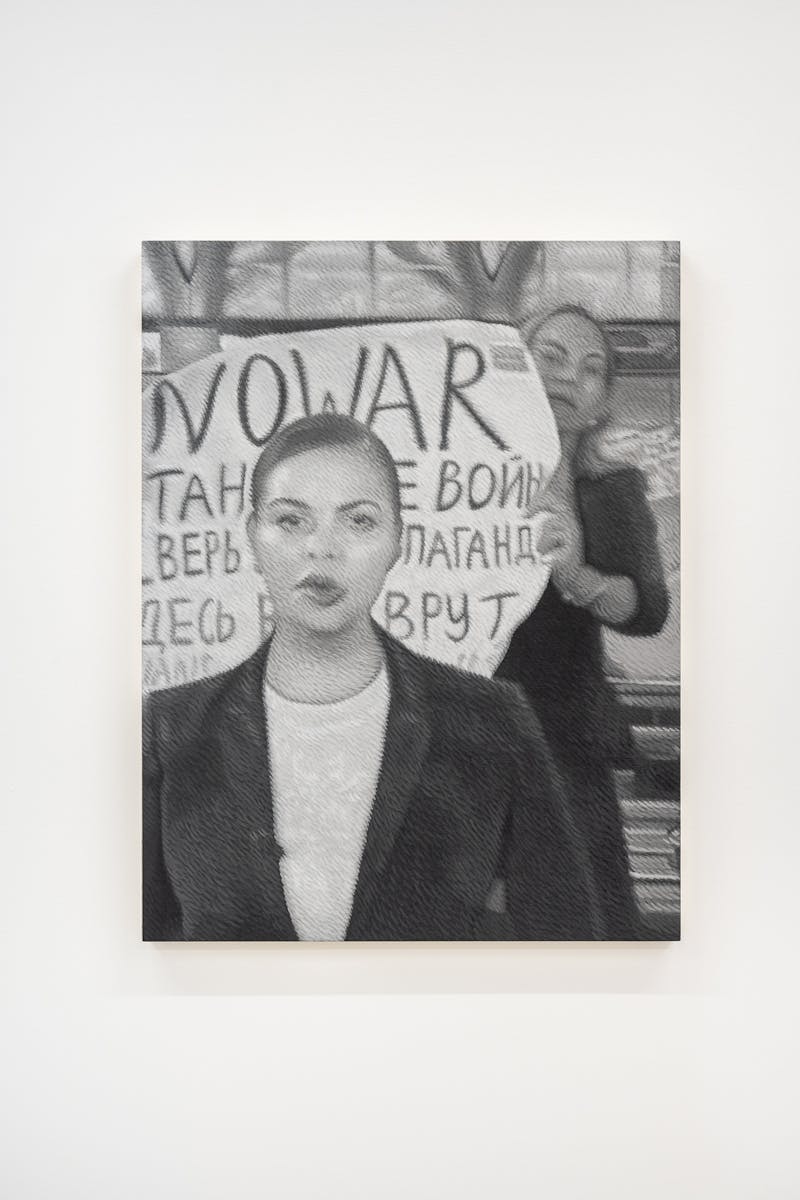 M: The images in your works reflect the shadows of films, news pictures, etc. The naming method of your works is also similar to archives, and the sources, characters and even dates are noted in detail. What sparked your interest in this type of historical imagery? Can you share some of your behind-the-scenes stories about discovering and collecting these image archives?
X: There are certain technical and visual concerns that I have arrived at over the course of ten or twelve years that shaped the visual touchstones I'm looking for in images. I may recognize images that fall into that category, several times a day even, but then there's the context and the narrative of the image that might speak to conceptual concerns in general, or of that time. These works take such a long time to paint that I have at this point grown a very extensive backlog of images. They almost always have to endure that test of time; I mean some images I only painted/drew four years after having initially found/seen them, so a lot of images kind of expire as well. I do keep revisiting all these images, it's sort of like art collecting in a way. Sometimes the image just lives in my brain for a while. So that slowness is obviously in stark contrast to how I/we consume images now. It's been so surprising for instance how visible, widely distributed, and intensely debated the image of Marina Ovsyannikova was when it happened last year. But not even a year after this highly publicized moment around the war in Ukraine, most people I've shown the painting to struggle to identify it. In a sense that highlights another part of the work, which is creating a space for remembering, as a sort of mourning or something akin to mourning, or respecting the image and the context around it. And in a weird way, there's also an element of mis-remembering, a sort of call to reach for associations, that's something I've noticed more from viewers' engagement with the work over time. What I'm saying through this citation-titling is that the singularity of the image means a lot to me.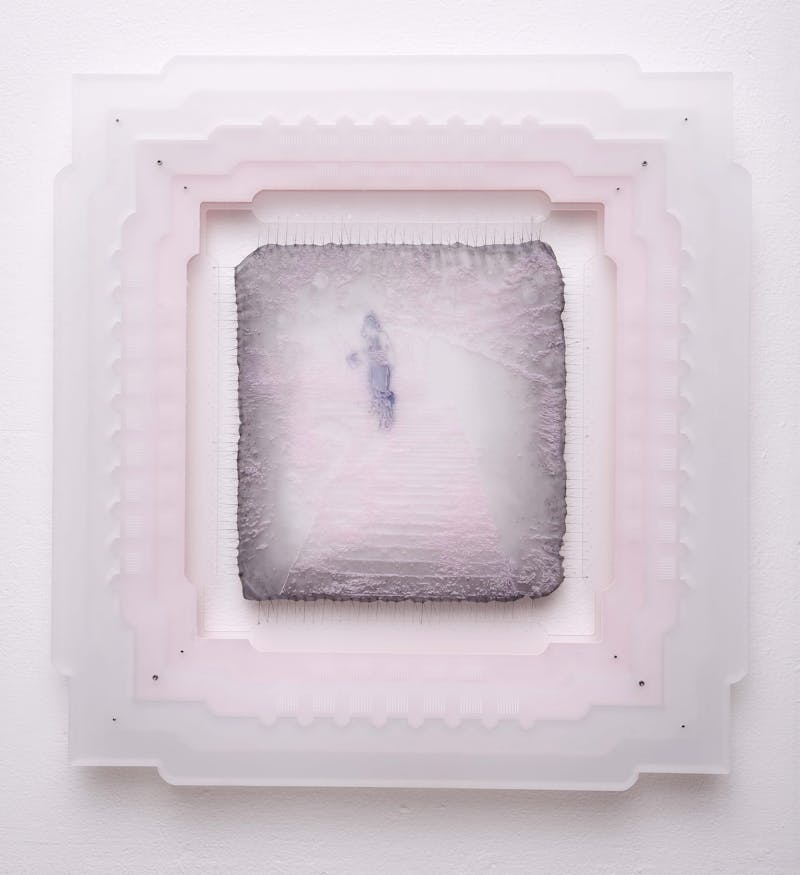 M: In this exhibition, your work "Prosthetic Painting series" (2022) contains rich and diverse materials such as medical silicone, metal goat leather and iron powder. Why were these materials chosen? Does the process of making artwork become relatively cumbersome or lengthy?
Adriano Amaral: I have been using prosthetic rubber for quite some time now and it is the main material from this series…
I started to use it intuitively without so much pretension but it stayed with me since them and now most of my works have silicone on them…
I like that its original function is to mimic our skin, that this rubber fills a gap in a fragmented human being… My father is a doctor and I spent some time of my childhood in the corridors of hospitals… I guess those experiences have influenced my interest and fascination with the physicality of our body…
But in this series the rubber has been used more like a paint relief in a technique that I have developed over the years… 
My process is very material based and with lots of layers… in some parts it is more technical and pragmatic but in others it is more spontaneous and messier… I like those contrasts of approach; it makes it denser and it feels right to me… but indeed it takes longer to complete a piece…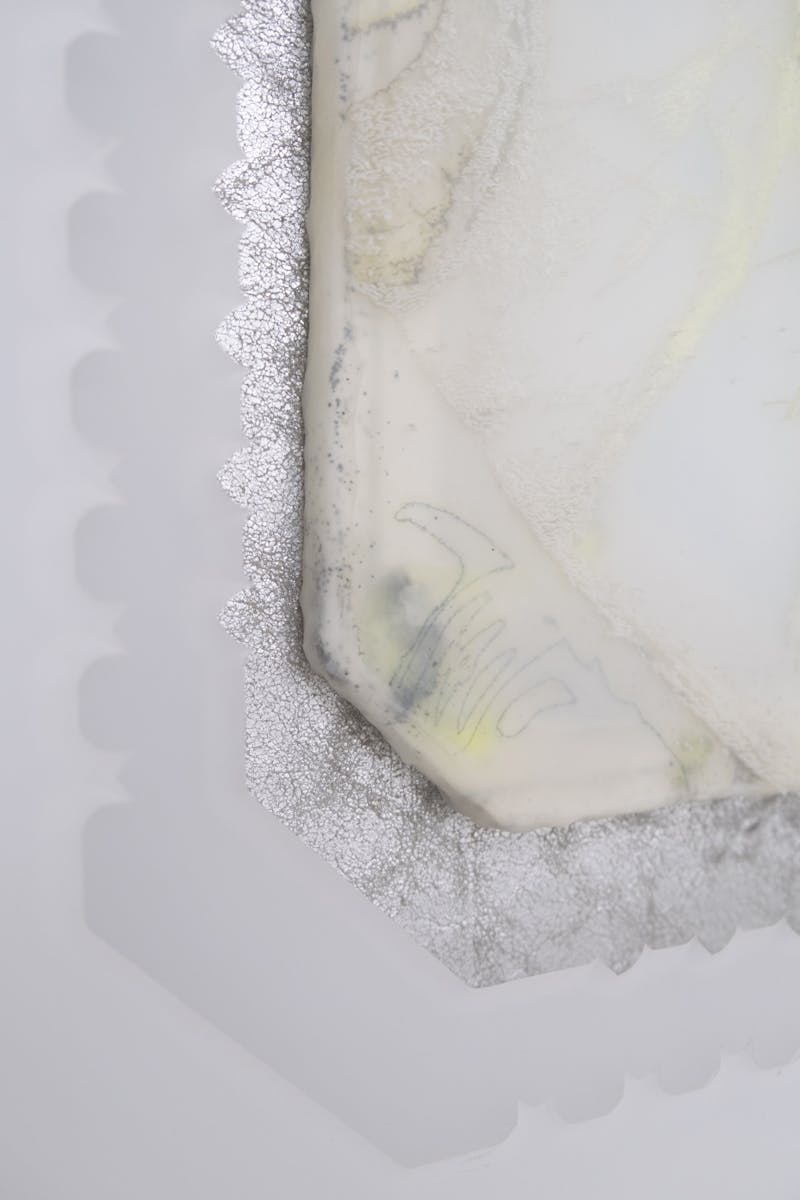 M: In these exquisite textures that are full of visual and tactile sensations, it seems that the images revealed are not only figures or frogs but abstract symbols faintly and hazily located in the centre of the image. Can you talk about the themes of your works and anything that has inspired your thinking recently? 
A: Since I started this "Prosthetic Painting series" I felt the necessity of become more figurative and to revel in forms and shapes a bit more…
I like to use things that surround me, it can be a picture from my daughter or a piece of bone I found in the ground, it doesn't matter but it has to be familiar in some sense… 
Those things function as a starting point for the pieces to exist even knowing there will be a lot of process and transformation until the work is done…
I'm not sure if I have themes… Or maybe I have too many… I play a lot with contrasts - bright/dark, synthetic/organic, warm/cold and so on… and I try to be very open to the complexities of our time while at the same time express something deeply personal…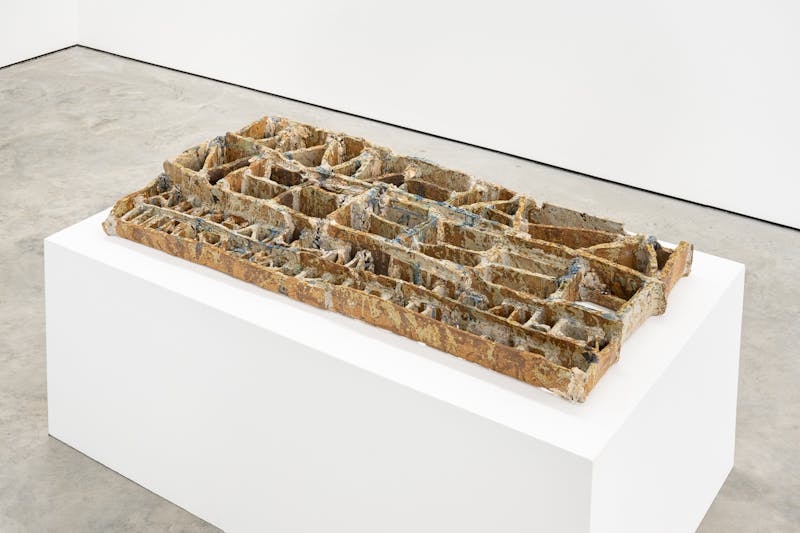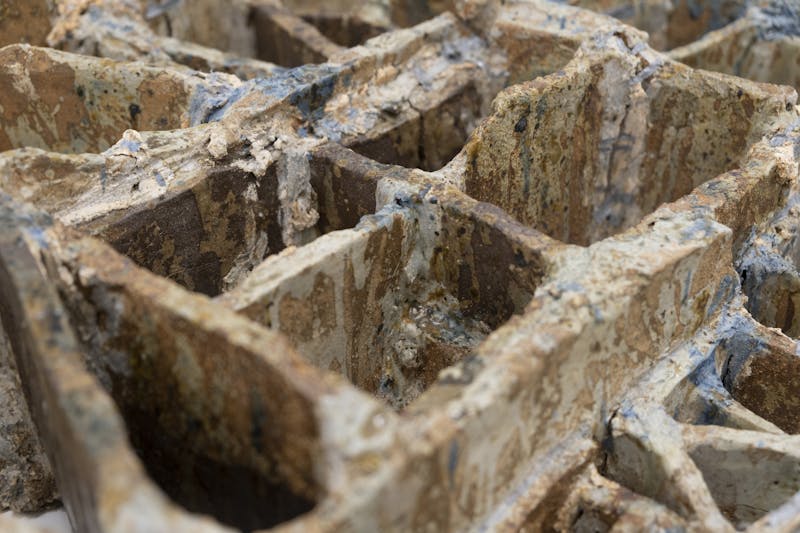 M: In your recent sculpture works, a large number of ready-made or re-processed industrial products have been used as materials, such as hide glue, plastic bottles, sand, burnt wood, etc. How did you find such "industrial scraps"? And, how do you think about the "abandonment" and "bruising" of these processed products?
Sophie Friedman-Pappas: I make sculptures studded with debris that could be the rubble lying beneath Freshkills Park, Battery Park City, or FDR Drive. I work with financialized waste materials: ash, roadkill, pigeon poop, and about the structures made to house them. Old walls of a building reused can collapse (over) time. So, what does a new story — narrative or architectural — do?
My sculpture, "WHA—" Gasped awake then spit the words back out they [were bitter] makes legible the anachronistic memories of a tired dovecote-cum-Airbnb. It's part of a body of work titled, Deltille-d Wall's Necessary Anachronism. I've written a story under the same name:
First, you're invited to sit; not by anyone but the two chairs cheated out around a round table.
I tug. "What the fuck?" Its legs are pinned to the ground. Is it a chair or does it just look like one? Instead of pulling it towards you, you've got to walk around its flank to sit down.
So, we did. We sat quickly after we got there. "Are you hungry?" When can we start exploring?
This furniture lives inside, but we can tell that it hasn't always. It's a patio set made of lacquered oak slats and its time outside has chipped away lots of sealant.
"I'm not complaining! I only said they're old because nothing else is." He picks up an electric tea kettle. "This has never been used."
There are stacks of triangles in this room too. "It's a pigeon house," our host (Cathy) said, or it was before the remodeling. As new members of Tinos's sharing economy, some of the island's dovecotes won't be able to collect birds' poop anymore.
"God." Sigh. "I am so happy to be here."
"Me too."
He bangs his head into mine softly and rubs it. We're in chairs but eventually move to bed. Hoping to fuck on the first day of vacation, we kind of rub cocks and act interested. I can squeeze his jaw long enough until it's totally open and then I picture — first my hands, arms, head, legs and feet put into that man's throat. Both our lips get wet. I'm so into it!
"Ugh. These sheets suck I'm sweating."
"'Mountain Tea.' What do you think this is? It looks amazing." Leans over to rub a leaf. "Maybe sage?"
We passed out without having sex. Distracted by novel herbs he clicked the hot water on and I fell asleep before sunset. What a fucking waste.
"WHA—" Gasped awake then spit my words back out. They were bitter.
Is he sitting on my chest? Thank you for face-fucking me in my sleep like I asked!
"WHE—" Something turned to stone in my mouth!
Last night our Airbnb became a furnace; once it reached 2350 °F the new masonry got glued to the wall and left satin green splashes that look just like the bird shit swept up a few years ago.
Cathy's waving now, with her palms down, where there's a splattering of white our bones made in the fire.
She scratches at a glassy smear. "What is this?" She brings her hands down quickly to her sides. The next time they come up it's with a camera.
Party in the Blitz is currently on view at MAMOTH until 17 March 2022.
Click here to view the exhibition ➞ Party in the Blitz